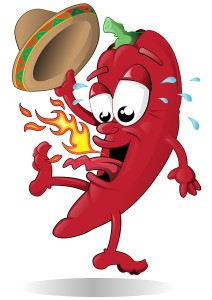 My family and I went out for Mexican food the other night. I made sure not to get anything too spicy. No salsa for me. It gives me horrible acid reflux. I had a mild burrito with sour cream. My wife ordered a quesadilla with Jalapenos. This was a great way for her to keep her food to herself since I like to finish, I mean "try", her food. The food was good and we even had leftovers. Well, during one of my pre-dinner moments, I saw the quesadillas in the refrigerator. I totally forgot about the jalapenos she told me about. I ate it so fast that I never tasted the jalapenos until afterwards.
It seemed a little hot. I remembered they were in there when I felt the burning pain deep inside my stomach. It's amazing how good our memory gets sometimes when we have pain to remind us. I headed straight for the cinnamon T-Drops #5. They worked fast to calm and settle my stomach. It was so bad it came back but I just continued to fight it with T-Drops. The all-natural remedy for stomach discomfort really works. I knew it all along but, like to remind myself now and then. Spicy foods bother my acid reflux despite what others may call a myth. There is one way to find out. Try stealing your wife's spicy food but make sure you have T-Drops ready. I guarantee if you are someone who suffers with heartburn or acid reflux, you will be popping in T-Drops in no time at all. As of today we have given out over 200 packages.
Don't forget to tell us how they helped you and "like" us on our Facebook page.